Itinerary: Tashkent - Nukus - Aral Sea - Nukus - Khiva - Tashkent

Region: Karakalpakistan, Uzbekistan
Duration: 6 days/5 nights
Accommodation: twin/double at the hotels and under the tents
Season: March - November
Important notes: Extreme conditions tour. Off-roads. One way route distance is 200-450 km. Both ways route distance is 800-850 km. Night's lodging under tent. Campfire meal cooking.
Highlights: Outdoor adventure tour to the Aral Sea and desolated fishing villages. The Aral Sea drying off has become one of the planet's worst environmental disasters. The remnants of the South Aral (Uzbekistan) continue to disappear and its drastic shrinkage has created the Aralkum, a desert on the former lake bed.
Tour program:
Day 1: Tashkent. The capital of Uzbekistan and city of people's friendship
Arrival at Tashkent international airport, transfer to the hotel. Accommodation and rest after flight. City tour: Chorsu bazaar, Kukeldash madrassah and architectural complex Khazrati Imam, and Abdulkasym madrassah. Dinner at the restaurant.Overnight in Tashkent.
Day 2: Nukus. The capital of Karakalpakstan
Breakfast at the hotel.Transfer to the airport Tashkent-3. Morning flight to Nukus. Arrival at airport of Nukus city, transfer to the hotel. Accommodation and rest after flight. Visit Savitsky Art Museum. Trip to Khodjeyli town to see Mizdakhan complex (Nazlumkhan Sulu and Shamun Nabi mausoleums, Khalfa Erezhep madrassah, White Khanaka caravansary and ruins of Gyaur Kala ancient fortress) where tourists will learn some interesting facts from Karakalpakstan's history and ancient monuments. Dinner. Overnight in Nukus.
Day 3: The Aral Sea shore
Morning departure from the hotel (8 am local time).
Itinerary: Kungrad town- plateau Ustyurt - desolated fishing village Urga - Sudochie Lake - Aral Sea. During the trip tourists will be told stories about exiles of Tsarists Russia and Stalin's periods. Arrival at the Aral Sea shore; stroll, campfire dinner and lodging for the night under tent and in sleeping bags.
Day 4: Aral Sea museum
After breakfast, trip across Ustyurt plateau to the beauty spots of Ustyurt canyon, then across drained seabed of Aral to fishing villages Uchsay (formerly sea port) and Muinak, visit site of rusting shipwrecks, outfall of Oxus River (AmuDarya) and Aral Sea museum. Return to Nukus city and hotel. Dinner. Overnight in Nukus.
Day 5: Zoroastrian dakhma
Departure to the south, on way visit the archaeological monuments Chil'pyk (Zoroastrian dakhma III cent.) and the site of ancient fortress Toprak Kala (residence of Khorezm khans' dynasty). Visit the archaeological complex Ayaz Kala. Campfire dinner and lodging for the night in the yurt camp Ayaz Kala (distance from Nukus 180 km).
Day 6: Ancient Khiva
Morning road trip to the fortress Big Guldursun sightseeing, then departure to Khiva city of Khorezm region. Visit museums, mosques and madrassah. Departure to administrative centre of Khorezm region, Urganch city. Transfer to the airport. Evening flight Urganch -Tashkent. Arrival at airport Tashkent-3. Departure home.



Price per tourist:
Price depends from the quantity of tourists in a group and submits upon request.

Inclusions:
Dbl/Twn hotel accommodation in accordance to the programme;

Air tickets Tashkent-Nukus, Urganch-Tashkent (economy class);

Pick-up & drop-off from/to Tashkent/Nukus airports;

Transport for 1st and 2nd days;

Transport (off roader) for two days (day3 and day4);

Transport for 5th day to Ayaz kala;
Transport from Ayaz kala to Khiva and Urganch;

Five days guide service (English speaking guide);

Rent cost for tents, sleeping bags, dish sets;

Entrance fee of archaeological complex;

Entrance fee of the Aral sea museum in Muinak;

Entrance fee of Art museum in Nukus city;

Provisions for 2 days trip to the Aral Sea;

Excursion in Tashkent and Khiva.
Exclusions:
Consular fee for Uzbekistan entry visa;

International air tickets;

Lunches and dinners (except 3-4 days).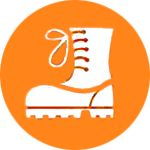 Recommended outfit:
1. trekking boots;
2. trekking trousers;
3. windcheater;



Recommended UV protection:
1. cap;
2. sun block cream;
3. sun glasses;
4. neckerchief.
The programme can be customized upon tourists' requests. We can offer an individual programme for everyone as well.
Photo report:
October 2013
2021 FIXED DATE GUARANTEED TOURS IN UGAM-CHATKAL NATIONAL PARK:
April Tulips Watching Hiking
Hiking
Tours to Mountain Lakes
Horse Riding
Trekking
Rainbow Trout Fishing

Useful links:
Hiking/Trekking in Uzbekistan
Outdoor adventure in Uzbekistan
Hotels of Nukus