AKSAKATA-BELDERSAY HORSEBACK RIDING



2023 FIXED DATES HORSEBACK RIDING CALENDAR:
| | | | | | |
| --- | --- | --- | --- | --- | --- |
| May | Jun | Jul | Aug | Sep | Oct |
| 20-21 | 16-17 | 21-22 | 26-27 | 16-17 | 14-15 |

Itinerary: Tashkent - Ugam-Chatkal National Park, Aksakata river - Beldersay gorge - Tashkent

Region: Ugam-Chatkal National Park, Western Tien Shan, Uzbekistan
Tour duration: 2 days/1 night
Season: May - October
Horse riding distance: 25,5 km
Highlights:
Two days horse riding inside the national park. At first day a horse riding upstream the mountain river, and the second day up to the mountain range with sightseeing of the ancient petroglyphs, then down to the ski track through the picturesque gorge.
Riders can sightseeing a different mountain landscapes, a snow peaked mountains, a wealthy flora and fauna of the national park, rivers and waterfalls with pure water, enjoy the meal round the fireplace on camping, and get the information about the area from the experienced guide.




Horse riding program:

Day 1
Transfer from Tashkent to Ugam-Chatkal national park, to the ranger's house located on the bank of Aksakata river (L=70 km, T=2 h, H=1127m). Horse riding through the confluence of Aksakata and Nurekata rivers upstream the Nurekata river. Camping on the confluence of Nurekata and Berekata rivers. Dinner round the fireplace and overnight under the tents.
1 day route map

Horse riding start altitude - 1127 m
Camp altitude - 1762 m
Horse riding distance - 13,5 km
Day 2
Horse riding up to Kumbel pass. Sightseeing of the petrogliphs (L=4 km, H=2396m). Continue horse riding to Beldersay gorge, to the down chair-cable lift station (L=8 km, H=1500m). Transfer to Tashkent (L=90 km, T=2 h).
2 day route map

Horse riding highest altitude - 2402 m
Horse riding end altitude - 1512 m
Horse riding distance - 12 km

Price per tourist:
Price depends from the quantity of tourists in a group on a fixed date.
GROUP pax

PRICE US$

Inclusions:

transfer Tashkent - Ugam-Chatkal national park – Tashkent;

Ugam-Chatkal national park's ecological fee;

horses;

camping outfit: tents, sleeping bags and mattresses, plates & dishes, first aid kit, etc.

FB meal: breakfast, lunches & dinner in accordance to the program;

English speaking certified mountain guide;

horse riding instructor & cook service.

4

260

3

290

2

365

1

585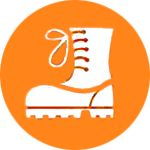 Recommended outfit:
1. trekking boots;
2. trekking trousers;
3. windcheater.
4. thermo-underwear (spring/autumn season);
5. slippers;
6. headlamp;
7. personal first aid-kit;
8. toilet set;



Recommended UV protection:
1. cap;
2. sun block cream;
3. sun glasses;
4. neckerchief.
Weight restrictions:
*The weight carried in horses' bags are critical, therefore the riders have to keep the weight of personal clothing and other stuff to a maximum of 10 kg or lighter.
Please check the other HORSEBACK RIDING TOURS IN UZBEKISTAN

2023 FIXED DATE GUARANTEED TOURS IN UGAM-CHATKAL NATIONAL PARK:
Horse Riding
April Tulips Watching Hiking
Hiking
Trekking
Tours to Mountain Lakes
Rainbow Trout Fishing

Useful links:
Hiking/Trekking in Uzbekistan
Outdoor adventure in Uzbekistan
Homestay in the Guesthouse on Charvak lake in Ugam-Chatkal national park
Hotels on Charvak lake in Ugam-Chatkal national park
Hotels of Chimgan-Beldersay ski resort in Ugam-Chatkal national park