TULIPS WATCHING HIKING TO AKSARSAY WATERFALL





2020 FIXED DATES TOUR CALENDAR:

Itinerary: Tashkent – Ugam-Chatkal national park, Nanay village – Tashkent
Region: Ugam-Chatkal National Park, Western Tien-Shan, Uzbekistan
Hiking distance: 15 km



Kind of tulips: Tulipa tschimganica Z.Botsch, Tulipa greigii Regel.
Highlights: A day tulips watching hiking inside the national park, upstream the mountain river to the beautiful waterfall, includes a picnic. The river's valley has a pristine environment, pure air and picturesque sceneries. The experienced guide gives the information about geography, history, flora and fauna of the national park.

Tour program:
08:00 - meeting at UZBEKISTAN hotel's parking (pls see the location on the map);
08:00-10:00 - transfer Tashkent - Ugam-Chatkal national park, Pskem river (L=120 km, h=924 m);
Hiking and tulips watching upstream the Aksarsay river. Sightseeing the waterfall (1550 m). Picnic near the waterfall. Hiking to Pskem river.
18:00-20:00 - transfer to Tashkent along the beautiful shore of Charvak lake.



Price per tourist:
Price depends from the quantity of tourists in a group on a fixed date.
GROUP
pax
PRICE
US$

Inclusions:

transfer Tashkent - Ugam-Chatkal national park - Tashkent;

Ugam-Chatkal national park ecological fees;

English speaking guide service;

picnic (sandwiches, vegetables, fruits,

sweets,

tea, water).

4-14

65

3

80

2

95

1

130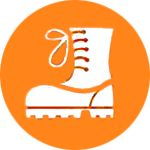 Recommended outfit:
1. trekking boots;
2. trekking trousers;
3. windcheater.



Recommended UV protection:
1. cap;
2. sun block cream;
3. sun glasses;
4. neckerchief.
Map of hiking route to Aksarsay waterfall
Hiking start & end altitude - 924 m
Hiking highest altitude - 1550 m
Hiking distance - 15.4 km
2020 FIXED DATE GUARANTEED TOURS IN UGAM-CHATKAL NATIONAL PARK:
April Tulips Watching Hiking
Tours to Mountain Lakes
Horse Riding
Trekking
Rainbow Trout Fishing

Useful links:
Hiking/Trekking in Uzbekistan
Outdoor adventure in Uzbekistan
Homestay in the Guesthouse on Charvak lake in Ugam-Chatkal national park
Hotels on Charvak lake in Ugam-Chatkal national park
Hotels of Chimgan-Beldersay ski resort in Ugam-Chatkal national park