TULIPS WATCHING HIKING TO Mt.PATANDAZBOSHI





Date: 18 April 2020
Date: 20 April 2020
Date: 25 April 2020
Date: 27 April 2020



Itinerary: Tashkent – Ugam-Chatkal National Park, Mt.Patandazboshi (1823m) – Tashkent

Region: Ugam-Chatkal National Park, Western Tien-Shan, Uzbekistan
Hiking distance: 10.8 km



Kind of tulips: Tulipa tschimganica Z.Botsch, Tulipa greigii Regel
Highlights: A day tulips watching hiking to the peak of the Mt.Patandazboshi. At the middle of April the path is dotted with tulips and the hikkers can fully enjoy the tulips watching. There is a spectacular view from the top of the mountain to the surrounding area: Charvak lake, Chatkal river, Paltausay river, Mazarsay river, Mt.Big Chimgan (3309), Mt.Paltau (2023), Mt.Kungirbuka (2914), Mt.Ovkashka (3096). Picnic arranges on the top of the mountain, under the big old conifer. An experienced mountain guide tells about the flora and fauna, geography and story of the region. There is also opportunity to see and make a photo of the eagles and vultures which hover in the thermal wind flows above the peak of the mountain.
* The difference of the hiking altitude: start altitude 1000 m - peak altitude 1823 m above the sea level.

Tour program:
08:00 - meeting at UZBEKISTAN hotel's parking (pls see the location on the map);
08:00-10:00 - transfer Tashkent - Ugam-Chatkal national park, Chatkal river (L=95 km, h=929 m);
Tulips watching hiking to the peak of the Mt.Patandazboshi (H=1823). Picnic on the top of the mountain. Short hiking along the range of the mountain. Back way down to Chatkal river.
17:00-19:00 – transfer from Chatkal river to Tashkent along the beautiful Charvak lake shore.



Price per tourist:
Price depends from the quantity of tourists in a group on a fixed date.
GROUP pax

PRICE US$

Inclusions:

transfer Tashkent - Ugam-Chatkal National Park - Tashkent;

Ugam-Chatcal national park ecological fees;

English speaking guide service;

picnic (sandwiches, vegetables, fruits,

sweets,

tea, water).

4-14

65

3

80

2

95

1

130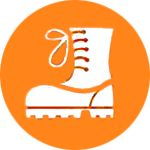 Recommended outfit:
1. trekking boots;
2. trekking trousers;
3. windcheater.



Recommended UV protection:
1. cap;
2. sun block cream;
3. sun glasses;
4. neckerchief.
Map of hiking route to Mt.Patandazboshi


Photo reports:





April







Hiking start altitude - 929 m
Hiking top altitude - 1823
Hiking distance - 10.8 km
2020 FIXED DATE GUARANTEED TOURS IN UGAM-CHATKAL NATIONAL PARK:
April Tulips Watching Hiking
Tours to Mountain Lakes
Horse Riding
Trekking
Rainbow Trout Fishing

Useful links:
Hiking/Trekking in Uzbekistan
Outdoor adventure in Uzbekistan
Homestay in the Guesthouse on Charvak lake in Ugam-Chatkal national park
Hotels on Charvak lake in Ugam-Chatkal national park
Hotels of Chimgan-Beldersay ski resort in Ugam-Chatkal national park