TULIPS WATCHING HIKING TO PALTAU VALLEY WATERFALL





Date: 4 April 2020
Date: 6 April 2020



Itinerary: Tashkent – Ugam-Chatkal National Park, Paltau valley – Tashkent

Region: Ugam-Chatkal National Park, Western Tien-Shan, Uzbekistan
Hiking distance: 13 km



Kinds of tulips: Tulipa kaufmanniana Regel, Tulipa greigii Regel, Tulipa tschimganica Z.Botsch, Tulipa bifloriformis Vved
Highlights: April fixed date tulips watching hiking through Paltau valley includes the sightseeing of archeological sites of the Paleolithic Age, waterfall, birch grove and the snow caped mountains surrounding the valley. There are a number of tulips in Paltau valley, which bloom in different periods of April. In those fixed date tours we offer the watching of Tulipa kaufmanniana Regel, which blooms just at the beginning of April. It is also time of snowdrops blooming.
Archeological site Obi-Rakhmat grotto – cave settlement of primitive people from the Paleolithic Age. On the place of excavations an experience guide tells about the unique archeological discoveries.

Tour program:
08:00 - meeting at UZBEKISTAN hotel's parking (pls see the location on the map);
08:00-10:00 - transfer Tashkent - Ugam-Chatkal National Park, Chatkal river (L=100 km, h=953 m);
Hiking upstream Paltau river and tulips watching. Sightseeing Paltau waterfall (h=25 m). Visiting of the birch grove (h=1430 m). Picnic. Sightseeing cave and grotto "Obi Rakhmat" (archeological site of the Paleolithic Age).
18:00-20:00 - transfer to Tashkent.

Price per tourist:
Price depends from the quantity of tourists in a group on a fixed date.
GROUP pax

PRICE US$

Inclusions:

*special permit to the nature conservation area;

transfer Tashkent - Ugam-Chatkal National Park - Tashkent;

Ugam-Chatkal National Park's ecological fees;

English speaking guide service;

picnic (sandwiches, vegetables, fruits, sweets, tea, water).

4-14

75

3

105

2

130

1

155
*Permitting requirements:
1. The itinerary passes through the nature conservation area where the special permit demands. The documents for permitting should be submitted in 15 days before the tour.
2. Copies of the following documents are required for permitting:
scanned copy of passport;

scanned copy of entry visa.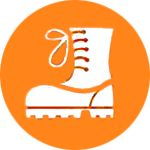 Recommended outfit:
1. trekking boots;
2. trekking trousers;
3. windcheater.



Recommended UV protection:
1. cap;
2. sun block cream;
3. sun glasses;
4. neckerchief.
Map of hiking route to Paltau valley

Photo reports:



April




Hiking start & end altitude - 953 m
Hiking highest altitude - 1430 m
Hiking distance - 12,8 km
2020 FIXED DATE GUARANTEED TOURS IN UGAM-CHATKAL NATIONAL PARK:
April
Tulips Watching Hiking
Tours to Mountain Lakes
Horse Riding
Trekking
Rainbow Trout Fishing
Useful links:
Hiking/Trekking in Uzbekistan
Outdoor adventure in Uzbekistan
Homestay in the Guesthouse on Charvak lake in Ugam-Chatkal national park
Hotels on Charvak lake in Ugam-Chatkal national park
Hotels of Chimgan-Beldersay ski resort in Ugam-Chatkal national park