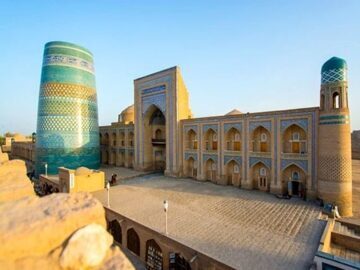 The architectural monument of Madrasah Muhammad Amin Khan is located in the western part of Ichan-Kala opposite Kunya-Arka at the gates of Ata-Darvaz. This two-story madrasah was built by Muhammad Amin Khan from 1851 to 1854. Muhammad Amin Khan is the seventh ruler from the Uzbek dynasty of kungrates in the Khiva Khanate, who came to power after the death of his brother Rakhimkulikhan. Years of government - 1845 to 1855.
The first thing that attracts attention is the impressive size of the madrasah. In the building there are 125 hujras (cells, a small room in a madrassa, in which students lived and sometimes pilgrims rested). And all the hujras, located on the first floor, have two rooms. Hudjras on the second floor have balconies. Never before had such balconies been built in madrasahs.
The facade of the madrasah is decorated with an ornament made of glazed brick. The minaret is lined with belts of geometric patterns from colored bricks. The rich decor also includes ornamental carving of doors and ganch windows (panjar) windows. The building of the madrasah is built in such a way that it allows the walls to keep cool even in the heat.
Certainly, the construction of the Madrasah of Muhammad Amin Khan gave a huge contribution to the architecture of Khiva, and thus left a mark on the history of the city. This is evidenced by the inscription on the portal of the madrassa "This beautiful building will always stand on the joy of the descendants."
Useful links:
Other sights of Khiva
Khiva
Tours round Khiva