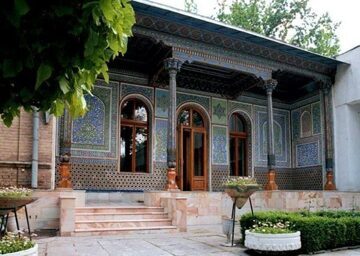 There are a very large number of museums in Tashkent, and one of them is the the Museum of Applied Arts, the most attractive for visitors. The museum is located in a historical mansion of the XIX century, almost in the center of Tashkent.
Before 1917 the mansion had belonged to the Russian diplomat Alexander Polovtsev, known for his quivering attitude to architecture and art. The building is a sample of architectural and decorative art. The palace is very richly decorated from the inside. The most richly decorated is its central hall. Carving and painting on wood and ganch, mosaic panels from glazed terracotta tiles in the interiors and on the main facade of the house with their rich color palette organically combine with the overall composition of the whole structure, emphasizing the uniqueness of architectural forms. The architectural decor is made by Uzbek folk artists. In 1970, along the perimeter of the courtyard, new premises were added to the old building, thus increasing the museum's exhibition area three times.
Until mid-1930, the building housed a children's home. The museum was founded in 1937 on the basis of a temporary exhibition of handicrafts, and was known as the Museum of Handicrafts. Since 1960, the museum has been renamed as the "Permanent Exhibition of Applied Arts". In 1997, the Exhibition was transferred to the Ministry of Culture and Sports of the Republic of Uzbekistan and transformed into the Museum of Applied Arts of Uzbekistan.
As you may know, in the course of the centuries unique centers of folk arts and crafts were formed on the territory of Uzbekistan. Each region has its own direction. Chust is widely known for his skullcaps, knives; Rishtan - azure ceramics; Margilan - iridescent iridescent satin; Bukhara - gold embroidery.
The museum collection numbers several hundred. The most outstanding exhibits are represented in the expositions of 13 rooms with 20 thematic collections, where over 50 kinds of products of national craftsmen are exhibited.
In the museum you can observe samples of textiles and embroidery, carpets, national costumes, headdresses, small plastics, miniatures and paintings on wood, crystal, glass, ceramic and pottery, weapons. There are also works of chasers, jewelery, musical instruments encrusted with mother of pearl, gold, precious wood.
Visiting the museum, you will get a real pleasure from the miracles created by the hands of man, and from the originality of each sample. The museum's collection dates from the first half of the 19th century to the present day.
Useful links:
Other siights of Tashkent
Tashkent
Tours round Tashkent
Sightseeing excursion round Tashkent city