HORSEBACK RIDING IN NUROTA MOUNTAINS





Itinerary: Tashkent – Nurota mountain range, Safarota village, (1000m.) – Parandoz mountain (1550m.) – Khayatboshi mountain (2165m.) – Fazylman mountain lake (1600m.) – Sentob village (490m.) – Aydarkul lake, Kyzylkum desert (250m) - Tashkent

Region: Kyzylkum-Nurota nature reserve, Nurota mountain range, Uzbekistan
The best season: May – October
Tour duration: 7 days/6 nights
Horse riding distance: 100 km


Tour program
Day 1
Transfer from Tashkent via small town Yangikishlok to the mountain village Safarota (L=290km, H=1000m). Arrival to Safarota village. Lunch. Instructions and preparation to the horseback riding. Beginning of the horseback riding. Pass over the mountain range Nurotau (H=1550m) to the mountain river. Camp #1 on the bank of the mountain river (L=10km, H=1350m).
Day 2
Horseback riding by the undulating land of the mountain range Nurotau, along the border of Nurota nature reserve, to the peaks of the mountains Beshbarmak and Parandoz. There are beautiful panoramas of the mountain gorges and valleys to the both sides of the range. Descent from the mountain Patandaz by south slopes of the range to the small mountain river. Camp #2 (L=15km, H=1550m).
Day 3
Horseback riding across the mountain range to the highest point - peak Khayatboshi (H=2165m). There is a nice panoramic view from the mountain Khayatboshi to the Aydarkul lake and Kyzylkum desert. Continuing horseback riding to the mountain lake Fazylman. Camp #3 near the shepherds' summer house, located on the south slope of the mountain Kichikfazylman (L=25km, H=1600m).
Day 4
Horseback riding around Fazylman lake the mountain village Sentob. Sightseeing of the ruins of the ancient settlement near Sentob village. Continue horseback riding to the road Jizzakh-Nurota. Camp #4 (L=25km, H=490m).
Day 5
Horseback riding to Aydarkul lake by the south part of Kyzylkum desert. Camp #5 on the south bank of the lake (L=25km, H=250m).
Day 6
A day of rest on the lake, including fishing, swimming and hiking along the bank of the lake. Camp #5 on the south bank of the lake (H=250m).
Day 7
Transfer from Aydarkul lake to Tashkent (L=315km).



Price per tourist:
Price depends from the quantity of tourists in a group and submits upon request.

Inclusions:
transfer Tashkent – Safarota village, Aydarkul lake - Tashkent 4WD NIVA LADA;

horses;

service of English speaking certified mountain guide;

service of horse riding instructor and cook;

FB meal (breakfast, lunch and dinner);

camping outfit: tents, sleeping bags and insulated mats, first aid kit, etc;

gas for cooking of meal;

registration and touristic tax.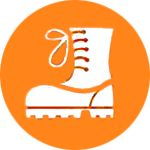 Recommended outfit:
1. trekking boots;
2. trekking trousers;
3. windcheater.
4. thermo-underwear (spring/autumn season);
5. slippers;
6. headlamp;
7. personal first aid-kit;
8. toilet set;



Recommended UV protection:
1. cap;
2. sun block cream;
3. sun glasses;
4. neckerchief.
Weight restrictions:
*The weight carried in horses' bags are critical, therefore the riders have to keep the weight of personal clothing and other stuff to a maximum of 10 kg or lighter.
Please check the other HORSEBACK RIDING TOURS IN UZBEKISTAN

2021 FIXED DATE GUARANTEED TOURS IN UGAM-CHATKAL NATIONAL PARK:
Horse Riding
April Tulips Watching Hiking
Hiking
Tours to Mountain Lakes
Trekking
Rainbow Trout Fishing

Useful links:
Hiking/Trekking in Uzbekistan
Outdoor adventure in Uzbekistan
Homestay in the Guesthouse on Charvak lake in Ugam-Chatkal national park
Hotels on Charvak lake in Ugam-Chatkal national park
Hotels of Chimgan-Beldersay-Amirsoy ski resort in Ugam-Chatkal national park