GOLDEN AUTUMN IN THE MOUNTAINS OF UGAM-СHATKAL NATIONAL PARK




Itinerary: Tashkent – Ugam-Chatkal national park – Tashkent
Region: Ugam-Chatkal national park, Western Tien-Shan, Uzbekistan
Season: October-November
Total length of the route: 240 km
Highlights: The velvet season "Golden Autumn" is the long-awaited period of the year in Uzbekistan. The gentle sun, an indescribable cocktail of smells of mountain herbs, juniper and leaves. Apple orchards, walnut and almond groves, bright hips of rose hips, fragrant fruits of hawthorn and barberry and variegated multi-colored trees and shrubs attract the eye and fascinate. Enjoy the picturesque scenery of autumn, breathe in the clear mountain air and listen to the sounds of nature, you can join a small group with fixed dates in October and early November.



Tour program:
09:00-10:30 – transfer Tashkent - Ugam-Chatkal national park.
Sightseeing the petroglyphs of Khodjikent grotto. Excursion around Charvak lake. Visiting the mausoleum of Sheikh Umar Vali Bogustoni - the founder of dynasty of Sufic teachers. Visiting a mountain village Burchimullo. Lunch in cafe. Visiting of Beldersay ski resort and lifting on the chair cable lift up to the top of the Mt. Kumbel (2300 m);
16:30-18:00 – transfer to Tashkent.


Price per tourist:
Price depends from the quantity of tourists in a group and submits upon request.
GROUP
pax
PRICE
US$

Inclusions:

10-14

65

4-9

75

3

85

2

95

1

155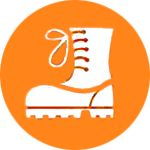 Recommended outfit:
1. trekking boots;
2. trekking trousers;
3. windcheater.



Recommended UV protection:
1. cap;
2. sun block cream;
3. sun glasses;
4. neckerchief.
2021 FIXED DATE GUARANTEED TOURS IN UGAM-CHATKAL NATIONAL PARK:
Tours to Mountain Lakes
Tulips Watching Hiking
Hiking
Horse Riding
Trekking
Rainbow Trout Fishing

Useful links:
Hiking/Trekking in Uzbekistan
Outdoor adventure in Uzbekistan
Homestay in the Guesthouse on Charvak lake in Ugam-Chatkal national park
Hotels on Charvak lake in Ugam-Chatkal national park
Hotels of Chimgan-Beldersay-Amirsoy ski resort in Ugam-Chatkal national park