4WD TOUR IN UGAM-CHATKAL NATIONAL PARK




Itinerary: Tashkent – Ugam-Chatkal National Park – Tashkent

Region: Ugam-Chatkal National Park, Western Tien-Shan, Uzbekistan
Tour duration: 1 day
Season: April-November
Car type: 4WD Lada NIVA
Total distance: 215 km
Highlights: 4WD tour inside Ugam-Chatkal national park. The route passes through the various picturesque landscapes and includes sightseeing of the mountain lake Charvak, the rivers flows into the lake, a big waterfall, a birch grove – place for picnic and relaxation, a cave, the grotto "Obi Rakhmat" - cave settlement of primitive people of the Paleolithic Era, where at summer time the archeologists carries out an archeological excavations, the grotto "Khodjikent II" with petroglyphs on rocks, where the ancient hunters had drawn a scene of hunting on Asian IBEX.
Tour program:
08:00-09:30 am - transfer Tashkent - Ugam-Chatkal National Park (65 km). Sightseeing of Khodjikent grotto petroglyphs. Sightseeing of Charvak lake. Arrival to Chatkal river. Hiking to Paltau waterfall (h=25 m). Visiting the birch grove (1450 m). Picnic and rest in the birch grove. Visiting of a cave. Sightseeing of the grotto "Obi Rakhmat". 18:00-20:00 pm - transfer to Tashkent.

Useful info:
At summer time it is recommended to start the program at 07:00 am;

April is the only season of tulips' blooming;

Summer is the season of the archeological excavations in the grotto "Obi Rakhmat".

Price per tourist:
Price depends from the quantity of tourists in a group and submits upon request.

Inclusions:
permit for hiking to a nature conservation area of Paltau valley;

ecological fees of

Ugam-Chatkal national park;

service of

English speaking certified mountain guide;

picnic (sandwiches, vegetables, fruits, sweets, tea, water);

transfer Tashkent - Ugam-Chatkal national park – Tashkent 4WD NIVA LADA;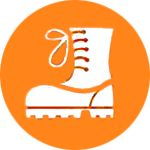 Recommended outfit:
1. trekking boots;
2. trekking trousers;
3. windcheater.



Recommended UV protection:
1. cap;
2. sun block cream;
3. sun glasses;
4. neckerchief.
Permitting requirements:
1. The itinerary passes through the nature conservation area where the special permit demands. The documents for permitting should be submitted in 15 workdays before the tour.
2. Copies of the following documents are required for permitting:
scanned copy of passport;

scanned copy of entry visa.
2021 FIXED DATE GUARANTEED TOURS IN UGAM-CHATKAL NATIONAL PARK:
April Tulips Watching Hiking
Hiking
Tours to Mountain Lakes
Horse Riding
Trekking
Rainbow Trout Fishing

Useful links:
Hiking/Trekking in Uzbekistan
Outdoor adventure in Uzbekistan
Homestay in the Guesthouse on Charvak lake in Ugam-Chatkal national park
Hotels on Charvak lake in Ugam-Chatkal national park
Hotels of Chimgan-Beldersay-Amirsoy ski resort in Ugam-Chatkal national park