HIKING THROUGH GULKAM CANYON




WELCOME TO JOIN! Hiking through Gulkam canyon 2020 fixed date guaranteed tours

Itinerary: Tashkent – Ugam-Chatcal National Park, Chimgan - Charvak – Tashkent

Region: Ugam-Chatcal National Park, Chatcal range, Western Tien-Shan, Uzbekistan
Tour duration: 1 day
Season: May - October

Highlights: A day hiking tour in the mountains of Ugam-Chatcal national park including rock climbing at the bottleneck of the canyon. The hiking trail starts in Chimgan ski resort and ends on Charvak lake recreation area.
Note: During the climbing down to the canyon the tourists need to change the trekking boots to the sandals to cross over a small natural bathtub with water.



Tour program:
09:00-11:00 – transfer Tashkent – Ugam-Chatcal National Park, Chimgan (100 km, 1575 m);
11:00-12:00 – ascent to Gulkam pass (1826 m). There is a panoramic view to Chimgansay river valley from the top of the pass;
12:00-13:00 – hiking down through the birch grove to Gulkam river;
13:00-14:00 - picnic at picturesque place near the Gulkam river;
14:00-15:00 – descent to the canyon on the rope and sightseeing a 5 meters high waterfall;
15:00-17:00 – hiking downstream the Gulkam river to Charvak lake;
17:00-19:00 – transfer to Tashkent city along the beautiful Charvak lake shore.
*It is recommended to start the program at 07:00 a.m. during summer time.
Inclusions:
transfer Tashkent - Ugam-Chatkal National Park - Tashkent;

Ugam-Chatkal National Park's ecological fees;

English speaking guide service;

picnic (sandwiches, vegetables, fruits, sweets, tea, water).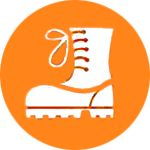 Recommended outfit:
1. trekking boots;
2. sandals;
3. trekking trousers;
4. windcheater.



Recommended UV protection:
1. cap;
2. sun block cream;
3. sun glasses;
4. neckerchief.
| | |
| --- | --- |
| Map of hiking route through Gulkam canyon | |
| | |
Hiking start altitude - 1575 m
Hiking top altitude - 1826 m
Hiking end altitude - 1177 m
Hiking distance - 6 km
Photo reports by season:


*Here you can see the sights of the tour in different seasons.

Spring:




Summer:




Autumn:



2020 FIXED DATE GUARANTEED TOURS IN UGAM-CHATKAL NATIONAL PARK:
April Tulips Watching Hiking
Hiking
Tours to Mountain Lakes
Horse Riding
Trekking
Rainbow Trout Fishing

Useful links:
Hiking/Trekking in Uzbekistan
Outdoor adventure in Uzbekistan
Homestay in the Guesthouse on Charvak lake in Ugam-Chatkal national park
Hotels on Charvak lake in Ugam-Chatkal national park
Hotels of Chimgan-Beldersay-Amirsoy ski resort in Ugam-Chatkal national park