HIKING TO NOVOTOSH 12 BATHTUBS WATERFALL




Itinerary: Tashkent - Ugam-Chatkal national park, Beldersay gorge - Tashkent

Region: Ugam-Chatkal National Park, Western Tien-Shan, Uzbekistan
Tour duration: 1 day
Season: Middle of May - October
Hiking distance: 8 km
Tulips blooming season: April - beginning of May
Kind of tulips: Tulipa tschimganica Z.Botsch
Highlights: Novotosh 12 bathtubs waterfall was formed in monolitic rock by flowing of mauntain stream of Amirsay river during many millenia. There is an opportunity to enjoy the beauty of Beldersay gorge during the lifting on the chair-cable lift. During the hiking the tourists take pleasure in pure air scented with mountain herbs, fresh up in clear waters of the river in a midday heat, admire the picturesque scenery from the top of the Mt.Kumbel.



Tour program:
07:00 - 08:30 - transfer Tashkent - Beldersay gorge;
08:30 - 09:15 - lifting up on a chair-cable lift to the Mt.Kumbel;
09:15 - 12:00 - from the upper chair-cable station hiking to the waterfall "12 Bathtubs";
12:00 - 15:00 - picnic and swimming;
15:00 - 17:30 - hiking to the down chair-cable station;
17:30 - 19:00 - transfer to Tashkent.
Inclusions:
transfer Tashkent - Ugam-Chatkal national park, Beldersay gorge - Tashkent;

English speaking guide service;

chair-cable lift fee;

ecological fee of Ugam-Chatkal national park;

picnic (sandwiches, vegetables, fruits,

sweets,

tea, water).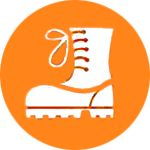 Recommended outfit:
1. trekking boots;
2. trekking trousers;
3. windcheater;
4. swimwear.



Recommended UV protection:
1. cap;
2. sun block cream;
3. sun glasses;
4. neckerchief.
Hiking start altitude - 2079 m
Hiking highest altitude - 2079 m
Hiking end altitude - 1519 m
Hiking distance - 7,9 km