HIKING TO NOVOTOSH 12 BATHTUBS WATERFALL




Itinerary: Tashkent - Ugam-Chatkal national park, Beldersay gorge - Tashkent

Region: Ugam-Chatkal National Park, Western Tien-Shan, Uzbekistan
Tour duration: 1 day
Season: Middle of May - October
Hiking distance: 8 km
Tulips blooming season: April - beginning of May
Kind of tulips: Tulipa tschimganica Z.Botsch
Highlights: Novotosh 12 bathtubs waterfall was formed in monolitic rock by flowing of mauntain stream of Amirsay river during many millenia. There is an opportunity to enjoy the beauty of Beldersay gorge during the lifting on the chair-cable lift. During the hiking the tourists take pleasure in pure air scented with mountain herbs, fresh up in clear waters of the river in a midday heat, admire the picturesque scenery from the top of the Mt.Kumbel.



Tour program:
07:00 - 08:30 Transfer Tashkent - Beldersay gorge.
Lifting up on a chair-cable lift to the Mt.Kumbel. Hiking from the upper chair-cable station to the waterfall "12 Bathtubs". Picnic and swimming. Hiking to the down chair-cable station.
17:30 - 19:00 - transfer to Tashkent.



Price per tourist:
Price depends from the quantity of tourists in a group and submits upon request.

Inclusions:
transfer Tashkent - Ugam-Chatkal national park, Beldersay gorge - Tashkent 4WD NIVA LADA;

service of

English speaking certified mountain guide;

fee of chair-cable lift;

ecological fee of Ugam-Chatkal national park;

picnic (sandwiches, vegetables, fruits,

sweets,

tea, water).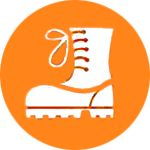 Recommended outfit:
1. trekking boots;
2. trekking trousers;
3. windcheater;
4. swimwear.



Recommended UV protection:
1. cap;
2. sun block cream;
3. sun glasses;
4. neckerchief.

Permitting requirements:
The itinerary of the hiking route passes through the nature conservation area where the special permit demands. The scanned copy of passport should be submitted for a getting of permission in 15 days before the tour.
| | |
| --- | --- |
| Map of hiking route to 12 Bathtubs waterfall | |
| | |
Hiking start altitude - 2079 m
Hiking highest altitude - 2079 m
Hiking end altitude - 1519 m
Hiking distance - 7,9 km
Photo reports by season:


*Here you can see the sights of the tour in different seasons.

Spring:




Summer:




Autumn:



2021 FIXED DATE GUARANTEED TOURS IN UGAM-CHATKAL NATIONAL PARK:
April
Tulips Watching Hiking
Hiking
Tours to Mountain Lakes
Horse Riding
Trekking
Rainbow Trout Fishing
Useful links:
Hiking/Trekking in Uzbekistan
Outdoor adventure in Uzbekistan
Homestay in the Guesthouse on Charvak lake in Ugam-Chatkal national park
Hotels on Charvak lake in Ugam-Chatkal national park
Hotels of Chimgan-Beldersay ski resort in Ugam-Chatkal national park