Tulipa kaufmanniana Regel

Tulipa greigii Regel

Tulipa bifloriformis Vved

Tulipa tschimganica Z.Botsch

Paltau valley

Paltau waterfall

Picnic in birch grove

"Obi-rakhmat" grotto
WELCOME TO JOIN! April 2020 fixed dates guaranteed tulips watching hikings to Paltau valley



Itinerary: Tashkent – Ugam-Chatkal National Park, Paltau valley – Tashkent

Region: Ugam-Chatkal National Park, Western Tien-Shan, Uzbekistan
Tour duration: 1 day
Season: April - November
Hiking distance: 13 km
Tulips blooming season: 5-25 April
Kinds of tulips: Tulipa kaufmanniana Regel, Tulipa greigii Regel, Tulipa tschimganica Z.Botsch, Tulipa bifloriformis Vved
Highlights: Paltau tour passes through Ugam-Chatkal National Park, which located among the mountain spurs of Western Tian-Shan. The word "Paltau" comes from the Turkic language. Originally it sounded off like Pulat Tau, which means "Iron Mountain". Since ancient time, Paltau valley has been famous for producing ore rich in iron content. There are still some remains of smelting furnaces, dating back to the Iron Age.

There are various mountain landscapes along the route. At the beginning, the route passes through a canyon to Paltau waterfall, which cascades from the height of 25 meters. At hot summer day the splashes of the waterfall gives a welcome relief and refreshing hikers. The highest mark of the route is a birch grove located in a valley between high mountains. There, under the leafy shade a national styled picnic serves for riders. During the rest after the picnic the hikers can read the Red Book of flora and fauna of Chatkal Nature Reserve.

After the picnic and rest a trail passes through the upper side of the canyon. There appears a spectacular panorama of Paltau canyon, the river flowing along its bottom, as well as a mountain range between Mt.Kungyrbuka and Mt.Paltau. Next, the trail comes to a cave, which is the object for speleological researches. A beekeeper lives just in 100 meters before the cave. There is a possibility to taste the mountain honey there.

Obi-Rakhmat grotto – cave settlement of primitive people from the Paleolithic Age. On the place of excavations guide tells about the unique discoveries of the archeological site.

Tour program:
08:00-10:00 - transfer Tashkent - Ugam-Chatkal National Park, Chatkal river (L=100 km, H=953 m);
Hiking upstream Paltau river. Sightseeing of Paltau waterfall (h=25 m). Visiting the birch grove (1430 m). Picnic and rest in the birch grove. Visiting a cave. Visiting the grotto "Obi Rakhmat", cave settlement of primitive people from the Paleolithic Era.
18:00-20:00 - transfer to Tashkent.
Inclusions:
special permit to the nature conservation area;

transfer Tashkent - Ugam-Chatkal National Park - Tashkent;

Ugam-Chatkal National Park's ecological fees;

English speaking guide service;

picnic (sandwiches, vegetables, fruits, sweets, tea, water).
Useful info:
At summer time it is recommended to start the program one hour earlier;

April month is the only season of tulips blooming;

Summer is the season of archeological excavations in the grotto "Obi Rakhmat".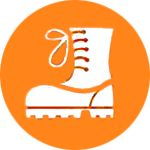 Recommended outfit:
1. trekking boots;
2. trekking trousers;
3. windcheater.



Recommended UV protection:
1. cap;
2. sun block cream;
3. sun glasses;
4. neckerchief.

Permitting requirements:
1. The itinerary passes through the nature conservation area where the special permit demands. The documents for permitting should be submitted in 15 days before the tour.
2. Copies of the following documents are required for permitting:
scanned copy of passport;

scanned copy of entry visa.
| | |
| --- | --- |
| Map of hiking route to Paltau valley | |
| | |
Photo reports by season:


*Here you can see the sights of the tour in different seasons.

Spring:




Summer:




Autumn:




Hiking start & end altitude - 953 m
Hiking highest

altitude

- 1430 m
Hiking distance - 12,8 km
2020 FIXED DATE GUARANTEED TOURS IN UGAM-CHATKAL NATIONAL PARK:
April Tulips Watching Hiking
Hiking
Tours to Mountain Lakes
Horse Riding
Trekking
Rainbow Trout Fishing

Useful links:
Hiking/Trekking in Uzbekistan
Outdoor adventure in Uzbekistan
Homestay in the Guesthouse on Charvak lake in Ugam-Chatkal national park
Hotels on Charvak lake in Ugam-Chatkal national park
Hotels of Chimgan-Beldersay-Amirsoy ski resort in Ugam-Chatkal national park