RAINBOW TROUT FISHING





WELCOME TO JOIN! 2020 fixed dates guaranteed rainbow trout fishing tours

Itinerary: Tashkent – Ugam-Chatkal national park, Kok-su river – Tashkent

Fishing region: Ugam-Chatkal National Park, Western Tien-Shan, Uzbekistan
Kind of fish: rainbow trout (Oncorhynchus mykiss)
Best season: June - October
Mode of travel to the fishing area: horseback riding/trekking
Total distance of active part of tour: 34 km

Highlights:
Offered fishing tour is a unique one on a scale of the Republic of Uzbekistan. You will get a great pleasure of trout fishing in natural mountain conditions. And also you will enjoy nature landscape and memorials during the horseback trip to the place of fishing. Trout is a predatory fish, and that's why we offer you as an amateur method of fishing by rod, as a sports one – by spinning on artificial baits. Fishing guide will show you the place of fishing, and provide the training for beginners. Tent camp will be set up in one of the most pictorial place on the river bank. Our cook will offer you several kinds of fish cooking. In the evening near the bonfire you will have time to exchange your impressions after fishing.
History of spreading:
Rainbow trout isn't an aboriginal Asian fish. Its motherland is America. The resident kind of steel-head salmon, inhabiting in North America, is found a wide spreading and is settled on many regions. In Uzbekistan in 1978-1984 it was seeded in Charvak water reservoir, where it settled down and has become to be caught in takes. It's inhabited in the reservoir and inflowing in it rivers.
Biology:
Big fish (adult) can be 40-50 sm long and weight 1.5-3.0 kg. The specients were 80 sm long, mass - 5 kg. It uses animal plankton, mayfly, stone fly, chironomids' grubs, flying insects, other water invertebrates for food. Big trouts are predatory.
About fishing:
Any angler who has experience of rainbow trout fishing, confirms you that this fish is famous by its struggle. Yes, it is a real fighter! Rainbow trout is possibly the most dynamic resistant salmon fish. Caught rainbow trout is up to do many tricks: quickly floats away downstream the river, motionlessly stiffens at the bottom, stays too long at underwater obstacles, goes into interlacement of submerged trees and roots, shakes its head from side to side. In addition rainbow trout often and high skips. The method of resistance of rainbow trout strikingly confirms suppose that this fish during its catching spends more time in air, than in water.


Fishing program:

1 day:
Transfer from Tashkent to the mountain village Yakkatut (106 km, 2 h, 1000 m). Upon arrival morning tea and packaging of personal stuff to the horse's bags. Horseback riding and trekking to the place of fishing (17 km, 5-6 h, 1390 m). Set up a tent camp. Lunch. Fishing. Dinner round the fire place. Overnight on the bank of the river.

2 day:
Breakfast in the camp. Fishing upstream the river. The fishing guide shows the places of fishing and ways of casting for beginners. Lunch cooked from caught fish. Rest time. Evening fishing. Dinner round the fire place. Overnight in the tent camp.

3 day:
Breakfast. Fishing with guide downstream the river. Lunch. Rest. Evening fishing. Dinner round the fire place. Overnight in the tent camp.

4 day:
Breakfast. Packing of the camp outfit. Back way to the mountain village Yakkatut. Transfer to Tashkent.

Inclusions:
transfer Tashkent - Yakkatut village - Tashkent;

Ugam-Chatkal National Park's ecological fees;

camping outfit and special equipment (tents, sleeping bags and insulated mats, first aid kit, etc);

FB meal (breakfast, lunch and dinner);

rent of horses for carrying of camping outfit and meal;

service of English speaking fishing guide, cook, drover;

special permit to the nature conservation territory;

registration and touristic tax.
Recommended fishing gear:
spinning rod L=1.8-2.0 m
fishing mono line diameter=0.18-0.21 mm
spinnerbait weight=5-11 gr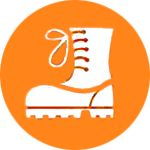 Recommended outfit:
1. trekking boots;
2. fishing suit;
3. thermo underwear (late autumn season);
4. wool socks;
5. slippers;
6. sweater (late autumn season);
7. cap;
8. raincoat;
9. headlamp;
10. penknife;
11. personal first aid-kit;
12. sun block cream and sun glasses;
13. rucksack
14. toilet set.
Weight restrictions:
*The weight carried in horses' bags are critical, therefore the anglers have to keep the weight of personal clothing and other stuff to a maximum of 10 kg or lighter.

Permitting requirements:
1. The itinerary passes through the nature conservation area where the special permit demands. The documents for permitting should be submitted in 15 days before the tour.
2. Copies of the following documents are required for permitting:
scanned copy of passport;

scanned copy of entry visa.
Photo reports by season:


*Here you can see the sights of the tour in different seasons.

Spring:




Summer:




Autumn:



2020 FIXED DATE GUARANTEED TOURS IN UGAM-CHATKAL NATIONAL PARK:
Rainbow Trout Fishing
April Tulips Watching Hiking
Hiking
Tours to Mountain Lakes
Horse Riding
Trekking

Useful links:
Hiking/Trekking in Uzbekistan
Outdoor adventure in Uzbekistan
Homestay in the Guesthouse on Charvak lake in Ugam-Chatkal national park
Hotels on Charvak lake in Ugam-Chatkal national park
Hotels of Chimgan-Beldersay-Amirsoy ski resort in Ugam-Chatkal national park